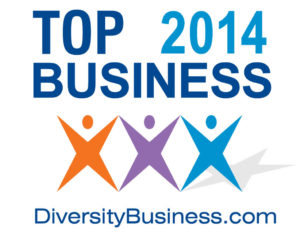 Boneal Incorporated is proud to announce that it has been recognized as a 2014 "Top Business" by DiversityBusiness.com as part of their annual "Top Businesses in America" program. Over 1,300,000 businesses in the United States participated in this year's business survey, and Boneal was honored due to its annual gross revenue and business profile.
This "Top Business List," presented by DiversityBusiness.com, offers a comprehensive look at America's privately held companies – the strongest segment of the US economy. This program, sponsored by major brands such as Apple, AT&T, Toyota, Wal-Mart, and Coca-Cola, has honored only 3,000 award recipients since its inception in 1999.
As part of DiversityBusiness.com's ongoing commitment to championing entrepreneurial spirit, the "Top Businesses in America" program recognizes and honors those who have established themselves as exceptional entrepreneurs, transform and better the way we live and establish practices that advance our economy.
"The goal each year of the "Top Business in America" program is to continue to celebrate another year of innovation, progression and growth and to raise the profile of entrepreneurs who remain committed in strengthening our competitive global landscape and rebuilding our future," said DiversityBusiness.com President and CEO Kenton Clark, in a letter announcing Boneal's recognition.
Through recognizing outstanding American companies, DiversityBusiness.com strives to celebrate and support the efforts of their "Top Businesses" in order to generate public awareness among those who may seek each company's products or services.
Boneal Incorporated is honored to be recognized as a 2014 "Top Business."