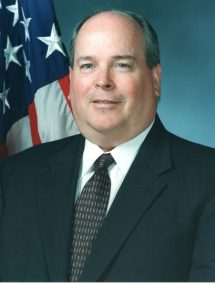 Ken has over 40 years of experience in Federal Government acquisition program management, contracting, supply chain management.  His experience includes strategic sourcing, performance-based logistics, contracting for major systems, contract for sustainment of fielded systems, demand planning, supply planning, and management of an AF Working Capital budget exceeding $3.1 billion annually.
After retiring from civil service, Ken has provided expert consulting services related both US DoD and the private sector.  He previously served in Director level positions with the US Air Force and the Defense Logistics Agency.  He is a proven leader with contracting experience at the operational, weapon system sustainment, and major acquisition levels.  Ken served twenty-two years as a warranted contracting officer in a variety of positions from a procuring contracting officer to a Director of Contracting Operations and eleven years in acquisition program management, and supply chain management.
Ken has served as a consultant to several US and International DoD contractors.  This included serving as the Program Manager for US Operations, F-15SA Integrated Fleet Support Program (IFS).  The IFS was a $6 billon dollar FMS program.
DoD positions held:
Sep 2018 – Dec 2021 Chief, DLA Missile Contracting, DLA Huntsville, AL
Nov 2008 – Jul 2013, Director Strategic Acquisition Programs Directorate, DLA Aviation, Richmond, VA and Director of DLA DLR Procurement Operations at Robins AFB, GA
Jul 2006 – Oct 2008, Deputy Commander, 448th Supply Chain Management Group
May 2001 – Jul 2004, Director USAF Acquisition Center of Excellence, Robins AFB, GA
Oct 1999 – May 2001, Director of Contracting F-15 System Program Office
Jan 1999 – Oct 1999, Chief F-15 FMS Contracting Branch, Robins AFB, GA
Nov 1993 – Oct 1999, Director of Business Operations at Patrick AFB & Cape Canaveral AS, FL
Jan 1981 – Nov2003, Various USAF Contracting Positions
Ken holds a Masters Degree in Logistics Engineering and a BBA in Accounting, Georgia College and State University.  He is also completed the Executive Development Program at the University of Virginia's Darden School of Business.
His professional certifications include APDP Contracting Level III, APDP Systems Acquisition (Contracting) Level III, APDP Program Management Level II, Lifetime Certified Purchasing Manager, Institute of Supply Management, Lifetime Professional Logistics Engineer, International Society of Logistics