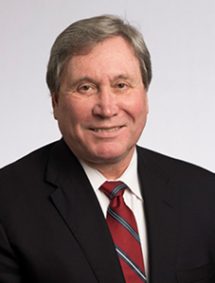 Mr. Joe Ritch is a shareholder with Sirote & Permutt law firm specializing in government contracts, real estate, and tax law. He is well-known throughout the region for his high-profile work with the North Alabama Base Realignment and Closing Commission and its efforts on behalf of Redstone Arsenal. Mr. Ritch has an equally active career as an attorney in Sirote's Huntsville office, where he co-chairs the Privacy and Data Security Department and the Government Contracts Practice Groups.
In his work, Mr. Ritch handles all aspects of government contracting, including supply, service, and construction contracts and subcontracts in industries such as telecommunications, electronics, aerospace and missiles, shipbuilding, automated data processing (ADP), construction, surety, professional, architect-engineer, and technical services, heavy equipment, and high-technology, research, and development contracting.   He also represents clients in developing and negotiating contracts in the real estate area, including commercial real estate transactions and handles real estate foreclosure for lenders involving residential and commercial real estate.
Outside of the office, Mr. Ritch serves as Chair of the Alabama Space and Rocket Center Foundation and sits on the Board of Directors for the Huntsville-Madison County Chamber of Commerce.
Mr. Ritch received his B.A. from the University of Alabama, his J.D. from Samford University's Cumberland School of Law, and his LLM from NYU.